Gabriele Fichera photographer
Art documentation in the service of research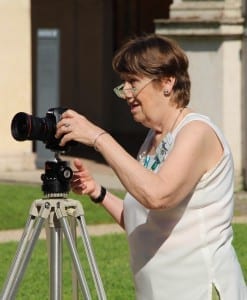 Gabriele Fichera, the photographer and longest-standing employee of the Bibliotheca Hertziana, retired in September 2014. Over the course of a 43-year career at the Hertziana's Photographic Collection which began in January 1941, she created a body of work comprising around 65,000 photographs. These images, which present a comprehensive documentary record of art and architecture from Late Antiquity to the 21st century, are complemented by numerous slides, duplicates, scans, digitisations, digitally post-processed images, and event photographs. This gallery, dedicated to Gabriele Fichera, shows the wide-ranging nature of her creativity in some examples.

Selected photo campaigns from four decades
1972 Rome, 3rd Trastevere campaign: the San Cosimato monastery complex
1981–2004 Illustrations from engravings
1986 Rome, Chiesa Evangelica Luterana
1988 Rome, Accademia Nazionale di San Luca: Disegni di figura
1996 Vincenzo de' Rossi: Ignudi
2002 Bassano Romano: Villa Giustiniani
1979/2004 Rome, Santa Cecilia in Trastevere
2005 Rome, Santa Maria Maggiore
2014 Rome, San Vitale
1993/2014 Rome, Villa Giulia
Photo campaigns in and outside Rome
Photo campaigns featuring churches, palaces and urban contexts in Rome and its surroundings were an integral component of Gabriele Fichera's work from the outset. The major campaign involving the documentation of the Roman neighbourhood of Trastevere originates from the 1970s. The project for the comprehensive documentation of the architecture and interiors of the Roman churches also originated in this period. The photo campaigns carried out in direct cooperation with the scientists at the Institute are also included in this section.
1972 3rd Trastevere campaign: San Cosimato monastery complex
Year: 1972
Number of photographs: 102
Research/publication: Fototeca dell'Unione
Gabi Fichera carried out one of her first photo campaigns in the San Cosimato monastery complex in the Roman neighbourhood of Trastevere. This campaign was the third of a total of nine campaigns that provided a comprehensive photo documentation of the neighbourhood, which was at risk of destruction from unsuitable construction activity and decay. It was concluded in 1980 and was carried out for and co-financed in part by the Fototeca dell'Unione.
1986 Rome, Chiesa Evangelica Luterana
Year: 1986/1987
Number of photographs: 37
Research/publication: Krüger, Jürgen: Evangelisch-Lutherische Christuskirche Rom, Rome 1988
Gabi Fichera provided the photo documentation for Jürgen Krüger's landmark study on the Evangelical Lutheran Church of Rome. Some of the images were also shot on Ektachrome. Black and white photography remained the preferred photographic technique until the advent of digital photography, as the lifespan of colour photographs, Ektachromes and colour negatives cannot be guaranteed over a long period of time.
1996 Vincenzo de' Rossi: Ignudi
Year: 1996
Number of photographs: 32
Research/publication: Schwager, Klaus: Die Porta Pia in Rom. Untersuchungen zu einem "verrufenen" Gebäude, in: Münchner Jahrbuch der bildenden Kunst 24, 1973, p. 33–96
Schallert, Regine: Das kapitolinische Ehrenmal für Papst Paul IV. Carafa von Vincenzo de' Rossi: eine Spurensuche, in: Römisches Jahrbuch der Bibliotheca Hertziana 37, 2006 (2008), p. 223–294
This photo campaign was carried out in conjunction with Regine Schallert's research. The photographs present details of the statues from all perspectives as they are presented in Palazzo San Luigi. Up to 1978 they were concealed from view at a great height on the façade of San Luigi dei Francesi.
2002 Bassano Romano: Villa Giustiniani
Year: 2002
Number of images: 207 negatives and 146 Ektachromes
Research/publication: Strunck, Christina: Identità vere e finte nel programma decorativo del palazzo di Bassano. Albani, Domenichino, Tempesta, Castello e Guidotti dipingono per Vincenzo Giustiniani, in: La Villa di Vincenzo Giustiniani a Bassano Romano, Rome 2003, p. 147–194
This elaborate photo campaign arose in the context of Christina Strunck's research on the fresco decoration of the Villa Giustiniani. Particular emphasis was placed on the colour documentation of the palace's frescos and paintings
1979/2004 Rome, Santa Cecilia in Trastevere
Year: 1979/1980, 2004
Number of photographs: 77 negatives (1979); 63 negatives (1980); 34 negatives and 48 Ektachromes (2004)
Research /publication: Schmitz, Michael: Pietro Cavallini in Santa Cecilia in Trastevere. Ein Beitrag zur römischen Malerei des Due- und Trecento, Munich 2013 (Römische Studien der Bibliotheca Hertziana; 33)
In the course of her 43-year career, Gabi Fichera frequently revisited previously photographed works after a long period of time. The reasons for this were, first, research projects by the Institute's Scientific Members and, second, the documentation of the state of the works before and after restoration. For example, she photographed Pietro Cavallini's frescos in Santa Cecilia in Trastevere prior to their restoration in 1979, following their restoration in 1980 and in 2004 when they had been restored again. The earlier campaigns were part of the Trastevere project of the Fototeca Unione, while the last one provided the documentation for Michael Schmitz's research. This campaign involving the medieval attic frescos was challenging; due to the difficult spatial conditions, most of the photos had to be taken lying down. These photos, which were taken at the time of the transition to digital photography, belong to the last major campaign carried out by Gabi Fichera using analogue photography.
Studio photography
In the early 1980s, Gabriele Fichera's work was extended to include the studio photography of two-dimensional subjects. As part of the 'engravings' and 'Le Blanc' projects, the photographer produced many thousands of photos of printed works and made a major contribution to the ongoing development of the focal collection of figurative and architectural drawings associated with the Institute's research.
1988 Rome, Accademia Nazionale di San Luca: Disgeni di figura
Year: 1988
Number of photographs: 659
Research /publication: I disegni di figura nell'Archivio Storico dell'Accademia di San Luca, 3 vols, edited by Angela Cipriani and Enrico Valeriani, Rome 1989–1991
The bulging folders of drawings from the figurative drawing competitions for artists from the 17th to 19th centuries, which were stored at the Accademia di San Luca in Rome, were documented comprehensively for the first time in 1988.
Illustrations from engravings
The project involving the comprehensive documentation of the illustrations from the engravings held by the library of the Bibliotheca Hertziana began in the early 1980s. The project was continued for 20 years and completed in 2004 when the Library took over the task of digitising its rare holdings itself.
Theme: Giuseppe Vasi, Delle magnificenze di Roma antica e moderna, Roma 1747-1761
Year: 1981
Number of photographs: 219
Research/publications: Engravings project
Theme: Jean-Jacques Boissard, Romanae urbis topographiae & antiquitatum, qua succincte & breviter describuntur omnia quae tam publice quam privatim videntur anim-adversione digna …, Vol 2, Part 3, Frankfurt a.M. 1597
Year: 2004
Number of photographs: 164
Research/publications: Engravings project
From analogue to digital photography
The transition from the analogue to digital world took place during Gabriele Fichera's long career. From 1971, the photographer used a professional Linhof camera for both studio work (9×12 cm flat film) and exterior photographs (with adaptor for 6×7 cm roll film). She occasionally used a Leica for campaigns that required the flexible and easy handling of the equipment, for example the Trastevere campaign. After over 30 years of analogue photography, from 2004 she made increasing – and from 2005 almost exclusive – use of Sinar, Hasselblad and Canon digital cameras.
2005 Rome, Santa Maria Maggiore
Year: 2005
Number of photographs: 73
Research/publication: Röll, Johannes: Ein unbekanntes Michaelsrelief aus dem römischen Quattrocento. Ein Werk des Isaia da Pisa, in: Docta Manus. Studien zur italienischen Skulptur für Joachim Poeschke, Johannes Myssok and Jürgen Wiener eds, Münster 2007, p. 191–196
The photographs of the sculptures from the second half of the 15th century in the Aula Comiziale of the Capital of Santa Maria Maggiore, which were taken in 2005, belong to one of the first major photo campaigns carried out using the digital camera acquired in spring 2005. The figures and reliefs of the former high altar ciborium were documented in a series of photographs, in which various possibilities offered by the digital camera were tested.
2014 Rome, San Vitale
Year: 2014
Number of photographs: 75
Research/publication: Sybille Ebert-Schifferer, Project Ars Roma
The fresco cycle in the Roman church of San Vitale, which has been largely neglected by research up to now, originated in around 1600 and was recently restored. Gabi Fichera documented it completely for the first time for the Bibliotheca Hertziana.
1993/2014 Rome, Villa Giulia
Year: 1993, 2014
Number of photographs: 101
Research/publication: Kiene, Michael: Bartolomeo Ammannati, Milan 1995
The first black-and-white photo campaign on the architecture of the Villa Giulia and the neighbouring Fontana dell'Acqua Vergine was carried out in 1993 as part of Michael Kiene's research on Bartolomeo Ammannati. In June 2014, Gabi Fichera documented the complex and fountain comprehensively again and also photographed all of the restored frescos by Pietro di Giovenale Mongardini in the casino's semi-circular loggia. This second Villa Giulia project was Gabi Fichera's last photo campaign for the Bibliotheca Hertziana.
Design and texts: Tatjana Bartsch, Johannes Röll, Regine Schallert
Collarboration: Susanna Thelen
Photographs: Gabriele Fichera
16.7.2014