100th anniversary of Henriette Hertz's endowment to the Italian state
"As a symbol of my love for the country that means so much to me"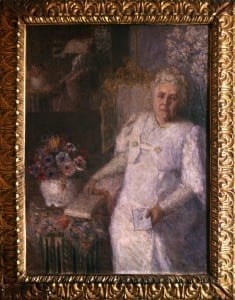 The 100th anniversary of the establishment of the Bibliotheca Hertziana in 2013 coincides with another important event – that of Henriette Hertz's (*1847 in Cologne, † 1913 in Rome) bequest of her art collection to the Italian state. The daughter of a Cologne businessman, Henriette was a passionate art collector with a particular interest in Italian art and, above all, Renaissance painting. She made her first acquisitions of artworks in the late 19th century in England together with the industrialist Ludwig Mond and his wife Frida, with whom she had formed a close friendship during her schooldays in Germany. The main focus of her journeys to Italy was always Rome, where she purchased the Palazzo Zuccari in Via Gregoriana in 1904. As early as the mid-1890s "erudite and artistic circles and groups with an interest in intellectual life" had been gathering here for musical soirées and other social events, organised by the affluent and educated patron. When she died, Henriette bequeathed the Palazzo Zuccari, including her comprehensive collection of books and photographs, to the Kaiser Wilhelm Society, which later became the Max Planck Society for the Advancement of Science. In accordance with the founder's wishes, a research centre with library and photographic collection, open to scientists of all nations, was established in the Palazzo Zuccari.
Hanging of the paintings in Henriette Hertz's apartments in the Palazzo Zuccari, around 1908–1915
Henriette Hertz's passion for Italy and Italian art culminated in her desire to bequeath her valuable art collection to the city she loved so much. Hence, in the year she died, 43 works by Italian artists, mainly originating from Tuscan and Venetian Renaissance schools, were transferred to the ownership of the Galleria Nazionale d'Arte Antica.
One hundred years after this endowment, a jointly organised exhibition presented at the Palazzo Barberini (8 March – 23 June 2013) commemorated the close links between the Bibliotheca Hertziana and the Italian state. The exhibition also provided an opportunity for the comprehensive conservation examination of all of the exhibited works, which was carried out by the Soprintendenza and its experts. These examinations brought numerous new and, in part, fundamental insights to light in the area of stylistic analysis. When the exhibition ended, the Bibliotheca Hertziana's Photographic Collection took the decision to make these works, which form the heart of the Hertz art collection, permanently accessible through this virtual image gallery.
The Hertz Collection of Italian Paintings as exhibited in the Galleria Nazionale d'Arte Antica in Palazzo Barberini
Exhibition catalogue

La donazione di Enrichetta Hertz 1913–2013: "segno del mio amore verso il paese che io tengo in sì alta stima", edited by Sybille Ebert-Schifferer and Anna Lo Bianco in cooperation with Cecilia Mazzetti di Pietralata and Michela Ulivi, Cinisello Balsamo 2013.
Contributions:
Sybille Ebert-Schifferer, Enrichetta Hertz (1846–1913). Amore e arte, amore per l'arte
Dietrich Seybold, Il desiderio di un "brano di vera anima dell'umanità". Per una breve storia della collezione Hertz
Anna Lo Bianco, La donazione di Henriette Hertz allo Stato italiano
Johannes Röll, "Il testo di un libro simile lo leggono oggi solo in pochi, ma le tavole le guardano tutti". La storia del volume La Collezione Hertz e gli affreschi di Giulio Romano nel Palazzo Zuccari del 1928
See also:
Lorenza Mochi Onori e Rosella Vodret Adamo, Galleria Nazionale. Palazzo Barberini. I dipinti. Catalogo sistematico, Rome 2008.
Jean Paul Richter, La collezione Hertz e gli affreschi di Giulio Romano nel Palazzo Zuccari, Leipzig 1928.
Project: Tatjana Bartsch, Johannes Röll
Collaborators: Gabi Fichera, Camilla Fiore, Cecilia Mazzetti di Pietralata, Frederike Steinhoff
Photographs of Henriette Hertz's paintings: Phographic laboratory of the Soprintendenza speciale per il patrimonio storico, artistico ed etnoantropologico e per il polo museale della città di Roma, Valerio Antonioli, Gianfranco Zecca
Historical photographs: Photographic Collection of the Bibliotheca Hertziana – Max-Planck-Institut für Kunstgeschichte
14.10.2013