curated by Oleksandra Osadcha
April 19 – July 3, 2023
Bibliotheca Hertziana – Max Planck Institute for Art History
Palazzo Zuccari, Via Gregoriana, 28, 00187 Rome RM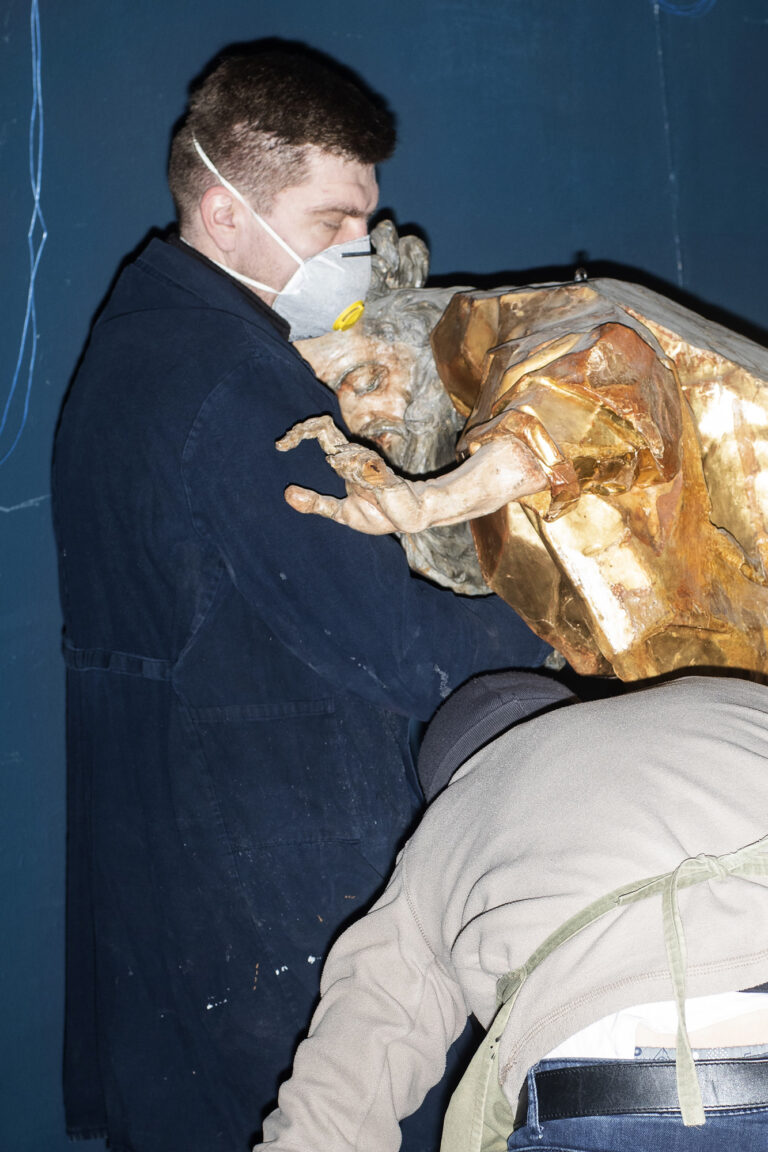 The photographic reproduction of art has a long history, dating back to the advent of photography itself. It was initially perceived as an inexpensive and effective means of disseminating knowledge about art. André Malraux, who introduced the concept of the "museum without walls" in his book of the same name, even argued that the history of art is a history of what can be captured through photography. The medium has been praised for its ability to reveal details invisible to the naked eye and provide instantaneous access to any piece of artwork, and modern digitization technologies are striving to meet a collective demand for an exhaustive inventory of cultural heritage, documented with utmost explicitness. The act of seeing, however, has long been associated with power and control over the subject being observed. It was this relatioship, in which being veiled paradoxically represents the retaining of agency, that prompted Ukrainian artist Elena Subach to explore modes of invisibility in her photography.
Following the escalation of Russian military aggression, invisibility became a matter of ethics and safety for Ukrainians. An almost iconoclastic ban on taking photographs in public spaces was implemented to prevent the leakage of strategically important data and quickly became part of the general consensus about how to respond. Despite this, the media is still filled with lurid photographs of the ongoing war, raising questions about what should and shouldn't be seen. These discussions inspired Subach to adopt a more allusive approach in her recent projects.
The artist spent the first days after the full-scale invasion volunteering at the border crossing on the west side of the country. She witnessed thousands of families parting ways, as women and children were sent off to safety. Rather than documenting these personal tragedies directly, Subach chose instead to photograph the loud emptiness of the chairs on which the refugees-to-be sat after long and exhausting journeys, and on which they often left their belongings.
Her series Hidden has the same sensitivity towards moments of vulnerability as well as shielding from the unwanted gaze. It was created in spring 2022, when museum workers and volunteers all over Ukraine rushed to save the country's cultural heritage. Subach, as part of the Borys Voznytsky Lviv National Art Gallery's staff at that time, decided to picture her colleagues, restorers and conservators, as they prepared artworks for safekeeping.
All the images were made in Lviv, one of Ukraine's major artistic hubs. The city is almost 770 years old and has a complex layered history, having been at different times part of Kyivan Rus, Poland, Austrian-Hungarian Empire and the USSR. Lviv has a unique architectural ensemble in its historical centre and rich museum collections that required urgent protection. Because of safety concerns, the press refrained from disclosing the details of these emergency measures, pushing Subach to find non-documentary, more artistic ways of telling these stories of appreciation and care.
Subach's images are not conventional depictions of art pieces. She has photographed sculptures veiled with plastic films, sandbags piled up in the middle of the streets, portrait paintings peeking out from behind the bars of packaging tape, and the ghostly floating silhouettes of altar decorations. Wrapped in shimmering materials, the pieces are often difficult to identify, with the artist intentionally cropping figures, zooming in on details or firing the flash directly onto them to create a flattened effect. The exhibits blend with gilded or polychrome stone surfaces into a patchwork entity. At the same time the usage of direct flash conveys associations with sensational reportage or crime scene photography, reminding us of the tragic context in which the images were made.
Shrouded and left beyond the reach of our eyes, the artworks take on human-like qualities. They look scared, curious and vulnerable, and appear to have an intense physical presence. The gesture of covering, which conveys a sense of touch, can be seen in each photograph. The images also depict scenes of direct contact between people and artworks, as the well-known museum rule Ne touchez pas les œuvres is disregarded in the face of a threat.
In her previous projects, Subach did not engage with the documentary genre. But like other Ukrainian artists, the history unfolding around her forced her to use the tools at her disposal to register the testimonies of the war. Subach balances photography as record and as personal statement. In 2022, Besides Press published Hidden as a photobook, accompanied by an essay by Yurko Prohasko, a Germanist, translator, and publicist. In his essay Prohasko meditates on his experience of seeing the statue of John of Dukla (or Jan of Dukla), the patron saint and protector of Lviv, being taken down in order to be transported to a shelter. The description of the Saint's temporary relocation, together with Subach's images, is a poignant testament to the resilience and determination of a people willing to preserve their heritage.
See also:
Yurko Prohasko, "At the Height of Jan of Dukla", in: Elena Subach, Hidden / CXOBAHE, Besides Press, 2022.
[PDF-Download, 400 KB]
ELENA SUBACH (1980) is a Ukrainian visual artist from Chervonohrad, Ukraine, but currently lives and works in Lviv. Elena studied economics and received her master's degree (2002) from the Department of Economics at Lesia Ukrainka Eastern European National University before turning to photography in 2012. Since then, she has been collaborating on art projects with another photographer, Viacheslav Poliakov. Elena developed her own unique understanding of Ukrainian visual culture in an autodidactic manner. Between 2019 and 2022, she worked in curatorial practice at the Borys Voznytsky Lviv National Art Gallery. Currently, she is teaching courses in art history and curatorial practice at the School of Visual Communications SKVOT in Kyiv. Elena is member of the "Ukrainian Photographic Alternative" Association.
She has received awards such as the New East Photo Prize from Calvert Foundation (2016), Future Talents (2019) nominee and the Gaude Polonia Scholarship (2019) while her photographs have been published in numerous magazines and newspapers, including British Journal of Photography, Weltkunst, Vogue Poland, The Guardian, Süddeutsche Zeitung and many others. Her work has been shown at international exhibitions, most recently at the Nordic House in Reykjavik, Photo Elysee Museum of Photography in Lausanne, Kunstforum Wien in Vienna, Eretz Israel Museum in Tel Aviv, Willy Brandt House in Berlin, the World Bank in Washington DC and the Tycho Brahe Museum in Ven, Sweden.
Both Elena and her partner Viacheslav were born in rather provincial towns. That's why since the very beginning traveling across the Ukrainian periphery was an essential part of their creative method to explore local visuality. It's an extraordinary mixture of superstitions, kitschy aesthetics, and bricolage strategies for working with the urban space. In series like Grandmothers on the Edge of Heaven the artist contemplates the manifestations of religiosity in the elderly generation of people in the villages in the west of Ukraine, while the series Meteorite Berdychiv addresses the atmosphere of inertia and awaiting for a miracle that defines life in the small towns.
In most cases Elena stages manipulates and collages her images. But it's not a formalist escapist strategy, but rather a way of constructing metaphorical and personal visions of social and cultural realities in the country. She is particularly attracted to looking at the invisible relations between people and objects that surround us. For instance, she is mesmerized by the poetics of broken plants and things that are tied up with some caring hands, featuring them in the project Lamkist ("Fragility").
Subach's techniques have focused on fragility since she is particularly sensitive to the textures of the surrounding world. Her style can be recognized by the way she zooms in to lend monumentality to seemingly insignificant details. The distinction between what is real and what has been digitally altered is virtually erased in this vibrant patchwork of colourful surfaces and patterns, which range from grannies' head scarves to feeble plants connected with strips of old textiles. This blending of the real and the imaginary reveals the essence of actual relationships.
The Exhibition at Palazzo Zuccari
Opening:
April 19, 2023, 6:30–8:00 PM without registration
Exhibition opening hours:
Monday – Friday 9:30–6:30 PM
with registration only at freiberg@biblhertz.it
Artist Talk and Guided Tour:
April 20 at 3:00 PM
Villino Stroganoff, Via Gregoriana 22
Please register here: https://events.biblhertz.it/event/69/
Exhibition Flyer:
See also:
Project Elena Subach, Oleksandra Osadcha, Tatjana Bartsch, Johannes Röll, Tristan Weddigen
Photographs Elena Subach
Texts and Captions Oleksandra Osadcha
Translations Tatjana Bartsch, Christoph Stolz (DE), Maria Francesca Denora (IT)
Editing John Rattray, Gita Rajan (EN)
Realization Web Tatjana Bartsch
Assistance Marieke von Bernstorff, Enrico Fontolan, Mara Freiberg Simmen, Susanne Kubersky, Stefanie Neumann
All photographs and other content on this site are the property of the named author (copyright holder) and are protected by applicable national and international law. They may not – except within the legal limits of copyright – be reproduced, distributed, published or made available to the public, either in whole or in part. Use without express, prior, written confirmation is not permitted. Also, any publication of a modification of the photographs without prior consent is prohibited. The author has a legal right to acknowledge their authorship of the work by affixing a copyright notice. Downloads and copies of the contents and photographs on this site are only permitted for private, non-commercial use.
April 19, 2023